Hello families,
It is hard to believe there are only three days left of grade one.  It is such a bittersweet time for all of us as we are excited for the summer break but sad to leave our classroom community behind.  However, the last few weeks are always a time for fun!!
Last week in literacy we read three stories about Alexander and then we wrote stories in the style of "Alexander and the Terrible, Horrible, No Good, Very Bad Day" and it was so much fun and they were HILARIOUS to read!  The stories are coming home tomorrow so you can enjoy your child's creativity and imagination 🙂
We also started our "Maker's Space" activity where students in our class and Ms. Perkins' class were broken up into small groups and given the task of building one of three types of structures: a tower, a bridge, or a container.  We put out many different kinds of craft materials and students had to first design their structure and choose materials to use to create the structure.  Then, they made their structures and some groups quickly realized their plans may not have been feasible with the materials provided, or they realized they could make a better structure in different ways or with different materials.  It was fascinating to see the process each group took and to finally see their final products! The students had fun and learned a lot about collaboration and perseverance.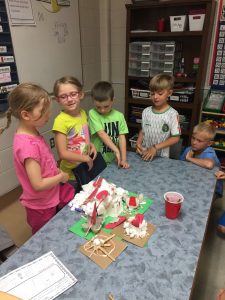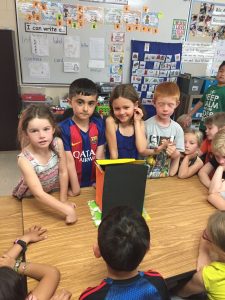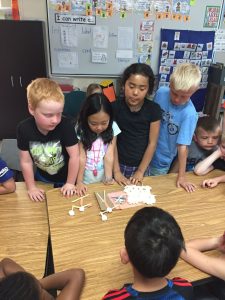 In dance we learned the Red River Jig, the Macarena, and the Chicken Dance!  We practiced these dances along with the Hopscotch Polka and the Cupid Shuffle from the week before, and today we had a Dance-a-Thon!  Ms. Perkins' class and our class went into the big gym and performed all of our new dances as well as had some "free-style" dance opportunities.  The students were so engaged and had a great time.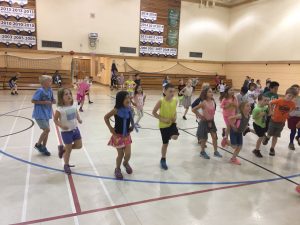 Last week we collected toys and books to donate to the children's ward at the RGH and the generosity was overwhelming. The students were so happy to write cards and make pictures to accompany the toys to bring joy to children in the hospital.  On Friday after school, a few of us went to drop off the donations and it was amazing to see the toy room for the children.  The students who came got to play in the room and witness some of the children staying on the ward enjoying the space.  We know the books and toys will be very much appreciated!  The giving nature of my students was wonderful to experience and I am going to hold these memories in my heart forever.  Thank you all for pitching in and being a part of this invaluable experience.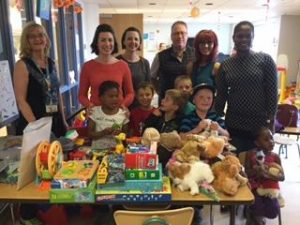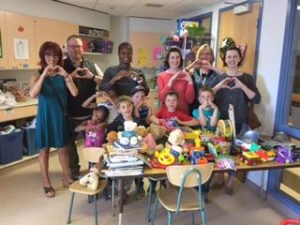 Today we had a special guest visit our classroom: Norman! The students were over the moon to finally meet him after asking ALL year 🙂  They thoroughly enjoyed watching him run around and were excited to pet him and learn more about guinea pigs.  Norman, however, was a bit overwhelmed by the amount of attention and so his visit was brief!  🙂
Our last few days will be busy.  We will be starting to bring home our extra classroom materials and our school work.  I will send home a bit every day with your child so that they aren't carrying too much on the last day.  We will also visit with our grade 7 buddies and pass on some words of advice for next year's grade ones!
Enjoy this last week of school!
Ms. Holmes