---
Happy Sunday, families!
I know it has been a while since I have posted, but I wanted to let you know that I am finally starting to feel better after a few weeks (this past week in particular) of illness.  Your kind words have been so thoughtful and have meant so much!  I feel more rested and ready for tomorrow–our Halloween Party!
Children are invited to dress up this year in school appropriate costumes (no fake weapons–even if they come as costume accessories–masks, nothing that restricts movement, are culturally sensitive, etc.)   It will be a very fun day filled with Halloween activities, stations, and a Halloween party.  Food and refreshments are being supplied by our October birthdays families, so thank you to them!
So now to recap the last few weeks of learning!:
In social studies we continued to explore safety in school, on the playground, and in the neighbourhood.  We took a walk one day around the playground and the students pointed out areas where they need to be safe.  We took pictures and once they were loaded onto the computer, we made a book which they entitled "All About Safety."  I typed up the words they wanted to go along with each picture, having them sound out the words as we went.  The published book is now in our "We Are Authors!" book bin in our classroom library.  The students love to read our book!  We also discussed Halloween trick-or-treat safety and created little readers that they will keep in their book boxes.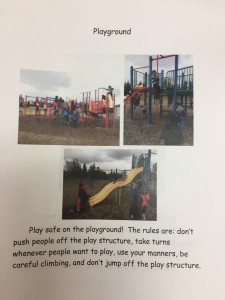 In numeracy we have finished up our geometry unit and are moving into our measurement unit with the launching of our Pumpkin Investigation!  More on this in a bit.
In literacy we have continued to work on our word families and have completed "ig" and "ip".  We have also begun our review of short vowel sounds and have done "a" and "e."  We learned that vowels are the "glue" that hold words together!  They enjoyed reading words with no vowels (they sounded pretty silly!) and even laughed when they saw what their names looked like without vowels!  We have also been working hard on our printing and writing.  Our "Good Writer's Checklist" is: 1. A capital at the beginning of a sentence  2. Finger spaces between our words  3. A period/question mark/exclamation mark at the end of our sentence.   We have also learned about three of our Reading Strategy Friends: Eagle Eye (look at the pictures for clues), Lips the Fish (look at the first letter and get your lips ready to sound it out), and Stretchy Snake (slowly sound out each sound in the word).  We have been practicing these skills in our daily reading!  In order to help with sounding out the words, we engaged in some segmenting and blending activities.  For example, one day I brought pipe cleaners with different coloured beads on them.  As I showed children a word they had to move a bead for each sound they heard and spoke (the beginning sound, middle sound, and ending sound.)  By doing kinaesthetic activities like this, it helps children to "physically" break a word apart and hear it in its individual parts.  Once they broke the word apart they then quickly blended the word back together (put all the sounds back together).   We have also continued to work on our Popcorn Words!  We are learning them so quickly and I told the children that before they know it we will be having our popcorn party!  I will be sending the entire popcorn word list home shortly so that you may know what is coming up.  The games that I have heard that are being played at home to learn these words are amazing, like Go-Fish, stacking cups, memory games, etc.  If you need any ideas for games for popcorn words let me know!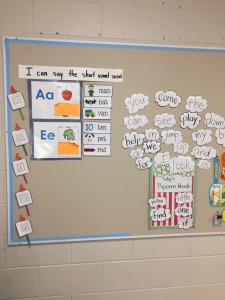 Last week was Education week and we engaged in a school-wide writing activity.  The theme for the week was "Celebrating Today and Preparing for Tomorrow."  Students were asked to think of what they want to be when they grow up and then think of something they can do right NOW that will help them to become successful in that particular career.  We worked with our grade 7 buddies in Ms. Pelletier's class and answered "I Want To Be…."  and "I Can…"  It was a very successful activity and I learned some new things about my students!  One wants to be a pizza restaurant owner AND a hockey player, another wants to be a cook, another a policeman, etc.  It was very inspiring.
In arts education we have been learning about colours (primary, secondary, warm, and cool).  We created beautiful Fall art pieces uses warm and cool colours and they were on display with Ms. Perkins' class!  We had lots of compliments.  We learned a lot about colours as you can see!  We are now investigating other aspects of visual art such as line (straight, bent, and curved lines).
And finally, in Inquiry we have wrapped up our Pumpkin Investigation!  The children had so much fun comparing pumpkins based on their size, colour, smell, texture, and other features.  We weighed our pumpkins after predicting how heavy they'd be, we predicted if pumpkins would float or sink in a tub of water, then conducted an experiment, we measured how tall our pumpkins were, and measured the circumference of the pumpkins (how big around).  The children learned a lot about the different ways we can measure and compare objects.  These themes will be further investigated in our unit on measurement.   On Friday the students also predicted how many seeds each groups' pumpkins had inside.  Then each group created designs for the pumpkin carving and voted for the best design.  We discussed how there were only three pumpkins and 24 students so that we could not choose EVERYBODY'S design, and that each team will work hard to bring one of them to life.  And they did a fantastic job!! The students had so much fun and it was all thanks to our lovely parent volunteers, without whom this day may not have been possible.  You truly made the experience a memorable one, as a few of the students had never carved a pumpkin before!  The shrieks and giggles as the students scooped out seeds and picked pulp off their hands was infectious!  I cannot wait for more explorations in the future!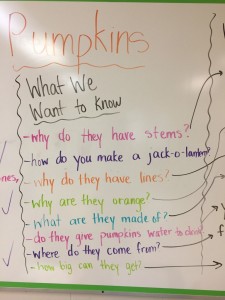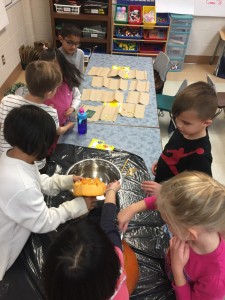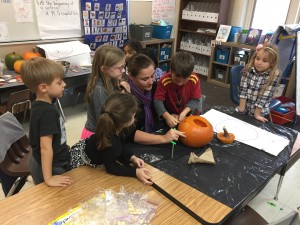 I hope you have all had a relaxing and healthy weekend!  I am excited to see the "boils and ghouls" tomorrow 🙂  HAPPY HALLOWEEN!
Ms. Holmes